MKU, and KEMI have scheduled to begin their TPD training tomorrow on 27th to 30th December 2021 cutting short teachers' holiday.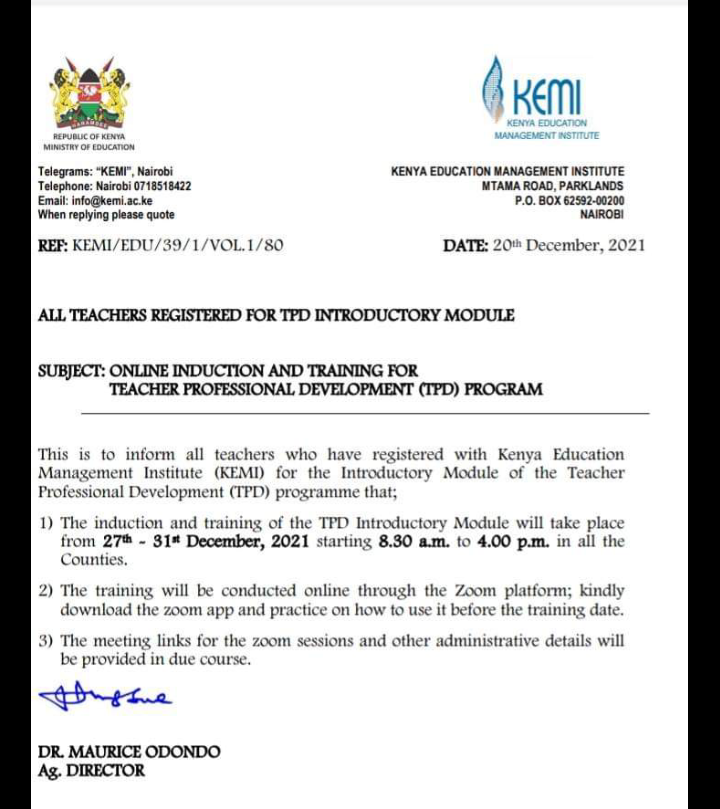 Course Structure Introductory module
The introductory module has five (5) chapters, which are expected to be completed within one year. The content of each chapter is based on current knowledge and research applicable to the practical needs of a Kenyan classroom teacher. The content and activities are applicable to real-life situation of a practicing teacher, are self-directed and experiential.
Mode of delivery
Will be face-to-face (On site) shall be done during school holidays and online learning where the teachers and instructional leaders shall access the online content any time anywhere via modern technologies.
Assessment
The assessment will be in the form of authentic assessment that will include self-assessment, portfolio, and journals among others. The 3 assignments will account for 60 per cent of a teacher's annual TPD score. The rest 40 per cent will be obtained through TPAD process.
Certification
Transcripts to be issued to students upon completion of a chapter and the same shared with the Teachers Service Commission. Upon successful completion of the TPD program, the teacher shall be issued with a teaching certificate renewable every five years.
Fees
Each teacher will have to pay a fee of Kenya Shillings 6000 per year to take part in the training.