Thousands of the teachers have been trained but are yet to find jobs.Last year,over 300,000 teachers applied for only 11,000 teaching slots.This showed how desperate the teachers are in the country.Some teachers have stayed home for even more than ten years since graduation.This is because TSC has not been able to absorb these teachers at once upon graduation.
The Government has changed the Education system.The 8.4.4 system is completely going away.Next year,there will be the double transition.The Teachers Service Commission is strategizing for the coming shortage of teachers.It has now been revealed that the Commission seeks to employ teachers and promote others once it gets funds.
The people Daily  has revealed that TSC CEO requires Ksh10 Billion for staffing.This emerged as she appeared before MPs yesterday.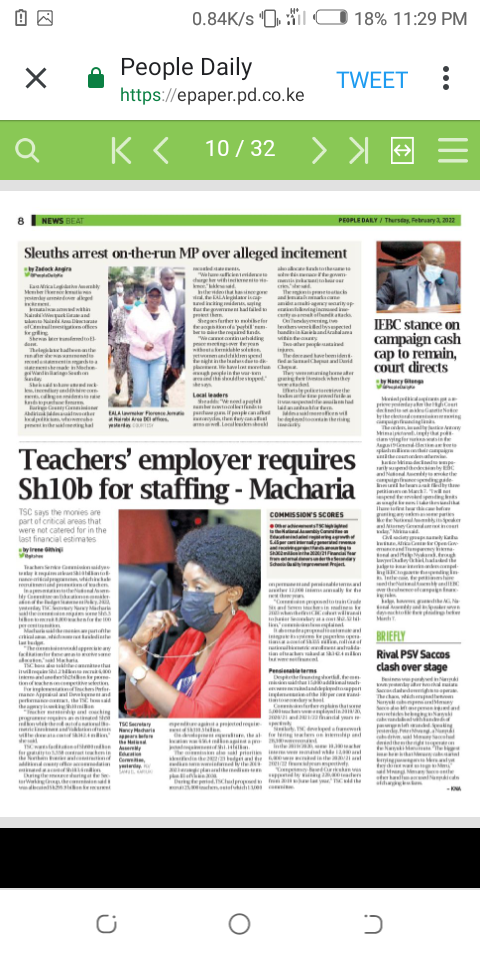 Importantly in the Ksh 10 Billion,the Commission requires Ksh 5.3B to recruit 8,000 teachers and Ksh 1.2B to recruit 6,000 interns.This brings in total 14,000 teachers who may be employed in the coming mass recruitment.At the same time,it seeks another Ksh 2B for promotion of teachers on competitive basis.The remaining amount will go to other issues such as appraisals.A section of page 10 of the newspaper reveals so as below.This now leaves teachers with high hopes.